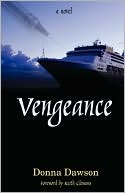 Vengeance
by: Donna Dawson


FBI agent James Kirk Benedict (yes, that is his name, Star Trek fans) goes on what he believes will be a relaxing vacation. He ends up in the middle of a case fearing for his own life, as well as all those on board the cruise ship. Dr. Julie Holding, James' girlfriend, is back on land trying to help a little girl James saved in his last case while trying not to worry about him. The agency is working very hard to help James figure out who is behind the mysterious murders and bring him back safely. This book will certainly keep you guessing!

Vengeance is a great mix of mystery and romance. It will definitely keep you on the edge of your seat waiting to see what happens next while giving you the satisfaction of a well-written romance. The book was definitely well-researched. Her characters come alive as you experience life right along side of them. There is a good amount of history from the Vietnam War that puts what you learned in school on a much more personal level.

The underlying message of the book is definitely that vengeance is not ours for the taking. Donna does a great job of including this message without overpowering her readers.

Romans 12:19&21 "Never take your own revenge, beloved, but leave room for the wrath of God, for it is written, "VENGEANCE IS MINE, I WILL REPAY," says the Lord. . .Do not be overcome by evil, but overcome evil with good. "

Back of the Book:

FBI agent James Benedict thought he was going on vacation. He thought he would have two weeks of relaxation and rest aboard the cruise ship bound for Hawaii. But he was wrong. Within hours of setting sail, a passenger dies, covered in horrendous boils that have eaten deep into flesh and bone. When another dies of the same strange condition, it is feared that a virus has been let loose. James is the only one who can find out if there is a connection between the select few chosen to die--if he doesn't die himself.
Dr. Julie Holding struggles to focus on her own FBI-appointed tasks while the man she loves is stuck in the Pacific aboard a floating time bomb. Little does she know that she, too, will become embroiled in the conspiracy and intrigue that has taken hold of the ship and its passengers.
Vengeance
will keep you on the edge of your seat as you discover the atrocities hidden in the pages of history and the struggle to keep faith and focus in a crazy world.
Visit the author's website: Donna Dawson