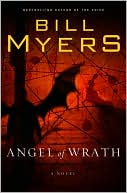 Angel of Wrath
by Bill Myers
This month, CFRB presents Angel of Wrath by Bill Myers.

Though not my usual style of book, I really enjoyed reading Angel of Wrath. This book is definitely a page-turner. The excitement of what will happen next begins on page one with the first murder scene. Followed by a string of murders all connected to the same church. There is a man connected to the murders who is also leading some local teenagers as they begin playing around with satanic sacrifices and rituals. They end up getting themselves in way over their heads and calling a legion that effects the minds of those who look into its eyes. Dangerous!!
Mr. Meyers does a great job at reminding Christians that we are not fighting just against flesh and blood (Ephesians 6:12). We need to remember and pray daily for the spiritual warfare that is going on all around us. Satan does not want God to have the victory. Put on the whole armour of Christ - Ephesians 6:10-18.
About the book:

Thirteen-year-old Jazmin, her ex-Special Ops uncle Charlie, and former FBI agent Lisa are reunited in the second of the Voice of God series to stop a an assassin driven to murder members of a megachurch led by Lisa's brother. This assassin has drawn in a coven of teens toying with satanic practices to support his efforts. The naive youth engage in ceremonies that appear to usher in the death of each of his victims. When their rituals open a portal into the spiritual realm, a terrifying and mysterious entity crosses over to our world.
The battle culminates with the capture of Lisa's father as the next target and a Black Mass requiring both their deaths as a sacrifice. The team will, once again, have to rely on all their wits, strength, and faith to survive in this action-packed, unearthly warfare.

About the Author:

Bill Myers is a popular and prolific writer who has authored nearly eighty books, has over two dozen screenwriter/director credits, and holds several national and international awards for his work. Myers holds a degree in stage directing from University of Washington and has studied at the Italian State Institute of Cinema in Rome. He was recently awarded an honorary doctorate in theology from the Institute Theologique de Nimes in France, where he taught. When not writing and directing, he enjoys acting, speaking at various schools and colleges, and working with the youth of his local church. Myers lives in California with his wife and two daughters. You can visit his Web site at Bill Myers Books.


Purchase Angel of Wrath at Barnes and Noble and Amazon.
Check out these other member blogs this week for more info.